Composite Sheet
Flat composite sheets available in fibreglass and carbon fibre. We supply a variety of sizes and thicknesses, complete with core material options.
Custom sizes available on request.
Core Materials and Flat Sheet:
Many of our advanced composite products will contain core materials. The idea of a core material is to increase the overall thickness of the product, (which increases stiffness) without increasing weight significantly. Think of corrugated cardboard. The weight of the corrugated cardboard is much less than what it would be if the overall thickness was made of solid cardboard, yet the stiffness is only slightly less.
We use different 'cores' for different purposes. The most common core material we use is foam core (airex). This provides great strength to weight ratio and produces a very light weight yet rigid panel. Honey comb (nomex and aluminium) balsa, marine ply, sphere core are also used for different applications in our lightweight panels.
Our Flat sheet is available with a PU foam core. This is the most common and easily workable material for the finished sheet. We can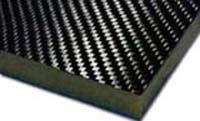 custom manufacture sheets with inserts, varying core types and thicknesses and finishes
Aluminium Honeycomb (top) creates massive strength when combined with carbon fibre. Foam Core (below) gives slightly more flexibility and machinability. It also offers excellent insulation properties.
Please get in touch with Tris for further details.
enquiries@the-arc-angels.co.uk
---
Refine Search
Showing 1 to 1 of 1 (1 Pages)